Insulated Homes, the specialist, multi-award winning and accredited installer of external wall insulation and park home refurbishment.
Our lightweight park home insulation system combines the amazing thermal properties of premium thick Neopor panels with a maintenance free, multi-layered render coating to wrap you home in warmth.
We have a system that has been developed over many years, with qualified surveyors and skilled installers who will care for your home. All backed with our friendly customer service team who operate to ISO9001 quality standards to provide you with free energy advice and support you through the entire process.
Insulated Homes External Wall Insulation is a multi-layered system comprising of a thick, premium grey Neopor panel that is fixed to the outside of your home in sections and coated with multi-layered render that dries to form a rock hard coating in the colour of your choice.
External Wall Insulation is used on homes such as park homes (mobile homes) that cannot have cavity wall insulation. Sometimes referred to as solid wall insulation, External Wall Insulation is fixed to your outside walls, adding a deep layer of insulation that warms and protects your home. Our system comes with a fire rating certificate of Class 0 specifically tested on park homes. Class 0 is the highest rating achievable.
Looking to repair or replace your old windows or fit new ones?
Looking to repair or replace your old windows or fit new ones?
Looking to repair or replace your old windows or fit new ones?
THE BENEFITS OF EXTERNAL WALL INSULATION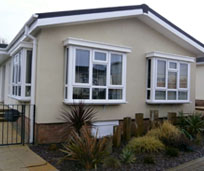 EXTERNAL WALL INSULATION:
Lower energy bills
Warmer in winter
Removes condensation and mould
Cooler in the summer
Increased privacy
No more maintenance
Home looks like new
Protects your home.
​
We provide a complete refurbishment service. Whatever you require, we can help: a new insulated, lightweight Metrotile roof; new, energy efficient upvc windows and doors; guttering, soffits and facia; an extension, conservatory, porch or sunroom. We have a solution to all your refurbishment needs. Our surveyors will visit your home, listen to what you require and provide you with a free, no-obligation quotation. We can assess your roof and recommend repairs, resealing or replacement. We'll only install odd-leg windows specifically designed for park homes. Did you know we paint park homes too?
PARK HOME RE-DESIGN SERVICE
Do you need more space? Are you fed-up with your kitchen or lack of storage? Give us a call and one of our designers will visit your home and discuss your options. Adding an extension or removing an interior wall can turn your home into a dream home.
EXTERNAL WALL INSULATION
REFURBISHMENT ∙ WINDOWS
DOORS ∙ SKIRTS ∙ ROOF REPAIRS
NEW INSULATED ROOFS ∙ PAINTING
SOFFITS ∙ FASCIA ∙ GUTTERING
PORCHES ∙ EXTENSIONS
CONSERVATORIES ∙ RAMPS ∙ STEPS
SUN ROOMS ∙ INTERIOR DESIGN
KITCHENS ∙ BATHROOMS
CALL US NOW ON 01647 24599
Telephone: 01647 24599 Email: info@insulatedhomes.net