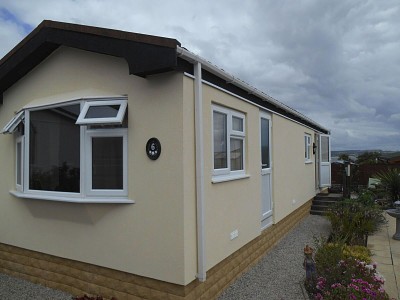 INSULATED HOMES - THE SYSTEM
External Wall Insulation is used on homes such as park homes that cannot have cavity wall insulation, adding a deep layer of insulation that warms and protects your home.
Step One – The Insulation Boards
The key to our system is our 100% recyclable grey Neopor Premium EPS insulation panels. These panels are not the standard white poly boards used by many installers and work in a different way. The boards are made from graphite impregnated polystyrene beads that are fused together using just steam. The graphite improves the thermal efficiency greatly as well as absorbing and reflecting heat. It is also non-toxic as well as being mould and fire resistant. Years ago, we used the cheaper white poly boards but it is important to put a product on that is going to insulate your home well. The difference between white poly and grey poly is like the difference between a cardigan and a thick winter coat. It is not the thickness of the poly that matters, it is how it is made.
Remember the better the insulation, the more money you will save on your bills for years and years to come. Our boards do not fit together with tongue and groove as this does not allow for the movement that park homes make and will crack over time. Our boards are fitted independently and the joins sealed with flexible, mould, fire and rodent resistant fire foam. This allows the insulation system to flex with your homes movements.
​
Step Two – The Render
Straight on to your grey poly boards we'll trowel on a layer of render into which we'll place a fibreglass reinforcing mesh. Each join is overlapped by 4 inches for extra strength and we'll then put another thin coat of render over the mesh. This mesh "sandwhiched" between two layers of render binds the system together, stopping any possible cracking that could form from the natural movement of your home. We also add extra stress panels at areas prone to cracking such as your window and door reveals. We will then leave your home for about a week to allow the render to dry and set hard.
​
Our Three-Layer External Wall Insulation System
Reduces condensation and heat loss
Cuts heating bills
Protects and prolongs the life of your home
Reduce CO2 emissions
Improve the appearance of your home
Step Three – The Ultimate Silicone Top Coat
Our unique silicone top coat provides a maintenance-free finish that you will not need to paint every couple of years. Our top coat is a trowelled-on render not a rolled on paint, putting a final thick layer of render, impregnated with the colour of your choice on to your home. It is water repellent and frost resistant to minus sixty degrees and is impregnated with marble granules, one of the hardest stones there is, to form a rock hard, protective coating on your home.
Unlike other products such as shell or grit, it can not peel or drop off and unlike PVC or paint finishes it will not split or crack over time. The colour has UV protection built in so will not fade and will continue to provide you with a durable, non-abrasive, maintenance-free finish that only requires a regular wash down to keep clean.
Our system has been independently tested and awarded a Fire Certificate Class O specifically for park homes. This is the highest and safest class that can be awarded.
The Technical Statistics
The system that we install is assessed and accredited by NICEIC to PAS2030 standards and is approved for the installation of BBA 13/5083 which is an expanded polystyrene (EPS) insulation board mechanically fixed to the park home substrate with glassfiber reinforcing mesh and render finishes.
U Value Calculations Guidance
Calculations of thermal transmittance (U value) should be carried out in accordance with BS EN ISO 6946:2007 and BRE report BR443:2006 using the thermal conductivity of the insulation material (typically Jablite EPS)
The U value of a completed wall will depend on the selected insulation thickness (60mm or 100mm), fixing method, the insulation value of the substrate and its internal finish.
Jablite HI Low Lambda EPS Class E is produced to the requirements of BS EN13163 Thermal Insulation
Fire Safety
Fire Rating documentation can be found in the info section of our website but in summary the system holds a fire certification Class 0 as defined in paragraph A13(b) of Approved Document B, "Fire Safety" to the Building Regulations 2000
and was tested to BS476:Part 6:1989+A1:2009 and BS476:Part 7: 1997.
EPS
It will not sustain mould growth and has no nutrient value to insect or vermin. It is non toxic and biologically inert. It is not irritating to the eyes or skin and no medical treatment is required if ingested.
COSHH
Data sheets for all elements of our system are available on request.
Telephone: 01647 24599 Email: info@insulatedhomes.net