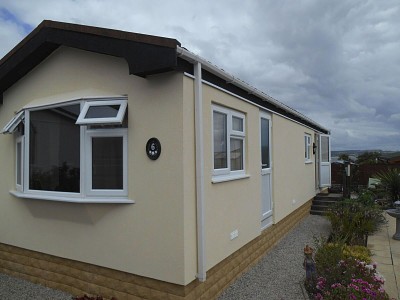 INSULATED HOMES - THE BENEFITS
External Wall Insulation ( EWI ) is fixed to the outside of your home, adding a deep layer of insulation to your home. Not all systems are the same. Our unique systems will bring you the following benefits. Our comes with a class 0 fire certificate specifically for park homes.
Lower energy bills
External Wall Insulation traps the heat inside your home, preventing it from escaping through your walls. This allows your boiler in your central heating system to work less to maintain the heat in your home which in turn lowers your energy bills.
Stops draughts
Draughts can come from vents and gaps underfloor but are often simply caused by the low temperature of your walls. The warm air from your heating hits the cold air nearer the walls and causes air currents inside the home.
​
A constant temperature
Park homes without external wall insulation lose heat quickly through their walls. If you turn off your heating to save money you may notice the temperature drops within minutes. Homes with our insulation system stay at a more constant temperature as the heat is trapped inside.
​
A cooler home in summer
Insulation helps keep your home cooler in the summer too. The insulation protects the home from the heat and keeps the cooler air trapped inside.
​
Increased comfort
Having your home at a constant temperature that suits you is far more comfortable than a home that is too hot one minute and too cold the next. No more fiddling with thermostats or having to keep turning heat on and off.
​
Removes the chilly, damp atmosphere
Keeping your home at a constant warm temperature prevents damp that can build up over time in colder park homes. Set your thermostat and your heating will kick in to keep you warm and comfortable.
​
Reduces illness and severity of illness
Living in cold, damp conditions is bad for your health. Damp conditions can cause health conditions and can make existing health condition worse. A warm, well-ventilated home provides a healthy atmosphere.
​
Damp, mould and mildew eradication
A well-fitted external wall insulation system stops condensation by raising the temperature of your walls and ventilating your home correctly. Condensation forms when moist air in your home touches your cold walls. Once the walls are wet, harmful mould forms. When our EWI works in conjunction with your park home vents there is no more condensation and therefore no damp and harmful black mould.
​
Total weather protection
Our system creates a robust protective seal over your existing home adding not only the insulating poly for warmth but a multi-layered, rock-hard render coating that seals and protects your home for years to come.
​
Stabilizes the ply structure of your home
Underneath our system your existing ply-walls are now protected, no more ply repairs or painting bills. You'll have peace-of mind that the structure of your home is secure.
​
Easy, low maintenance
The walls need nothing more than a simple wash down once or twice a year to keep them clean. Algae and bird droppings need removing to prevent staining just as they would on any surface. The system itself is maintenance-free and guaranteed.
​
Improves the look of your home
Your home will take on the appearance of a bungalow with windows set back in the thicker walls, crisp corners and a freshly rendered coating transform the home. We can add new windows, doors, guttering, soffits and fascia too to complete the look. We can even replace, repair or clean your roof so you'll have a home that looks brand new, is cheaper to run and is low-maintenance for years and years to come.
​
No disruption inside your home
Unlike insulating on the inside of your home, there is no disruption to you while we install other than a little noise. You can carry on your life as usual without having to move out.
​
Increases the value of your home
Your home will be protected so the ply walls will not deteriorate over time. The improved appearance and lower bills make your home easier to sell and an more attractive to buyers.
​
No reduction in your floor space
As the work is conducted on the outside of your home only, your interior walls are untouched so you don't lose floorspace as you would if you insulated inside.
Improves sound resistance
Our system insulates your home from sound so not only will it reduce road noise or any other annoying sound from outside but it adds privacy as it will muffle sounds from your home too.
​
A warmer home in winter
Living in a park home can be chilly, draughty and a little damp for some. Adding external wall insulation is like putting a thick warm coat around your home. Our premium insulation works to keep you and your home warmer by preventing your heat escaping through your thin ply walls.
​
It improves the thermal efficiency of your home
Insulating your park home makes it more thermally efficient. This reduced fuel bills, lowers emissions and makes you and your home greener.
​
It reduces C02 emissions
The UK Energy Charity, the NEA state that insulating a park home can save over 920 tonnes of CO2 over the lifetime of the home.
Telephone: 01647 24599 Email: info@insulatedhomes.net