INSULATED ROOF FOR PARK HOMES
Park Homes can typically lose 25% of their heat through their roof as they are usually only insulated with 75mm of rockwool. Over time this sags, mats and provides little, if any thermal benefit or heat retention. This is why we use the same Neopor insulation panels in your roof void as we do when putting external wall insulation on your home. Neopor panels provide extremely efficient insulation and will not deteriorate over time.
The roof void in a park home must be well ventilated to allow air circulation and which prevents condensation, Our Neopor is ony 60mm thick so still allows a large gap of air in your roof void for air to circulate. Our roof trusses are constructed from 3" by 2" tanelized timbers and the A frames are cross braced for additional strength. We only use the highest quality breathable felt as specified by the tile manufacturer Metrotile. If your existing roof has no overhang, we will extend the roof line by 6" on all sides to make it look like a brand new home and we'll install vents along the soffit line and in the gable ends.
​
The Metrotile tiles we use are made from the highest grade roofing steel and covered with Aluzinc R coating and a textured granular weatherproof finish and come with a forty year guarantee.
WARNING: Never let an installer lift a tile and blow insulation into your roof. They cannot direct where the insulation goes and it will inevitably block up vents, causing condensation and your ceiling to rot.
​
WE USE METROTILE LIGHT ROOFING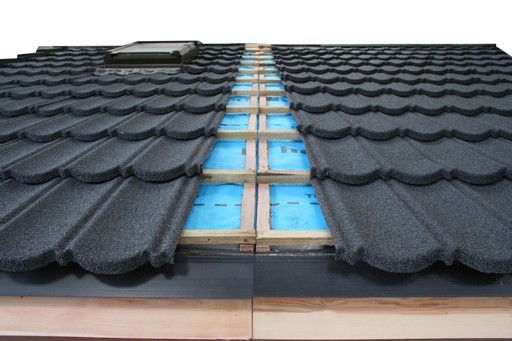 Telephone: 01647 24599 Email: info@insulatedhomes.net