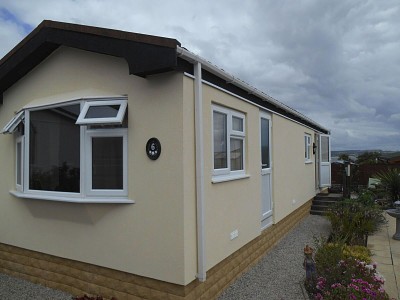 INSULATED HOMES - WINDOWS & DOORS
Due to the construction of a park home, traditional windows offer the wrong profile. Simply put, the chunky 90mm frames of house windows are too big for your thin 60mm park home walls.
If you allow an installer to put in a window meant for a traditional house, it will stick out from your home and allow water to creep in around it which can rot the framework and then your ply walls.
Insulated Homes are a specialist park home installer and only install "odleg" windows which are narrow and not only will fit your walls snugly but also have a 30mm rubber lip on the outer edge of the pvc frame which seals to your external ply skin and guarantees no water intrusion. They also have a water drainage channel on the outer frame and not on the underside which means any water runs out and away from your home and not down into your delicate ply!
In addition, all our windows have a 28mm sealed unit made with Pilkington Energy Glass and filled with Argon gas for maximum energy efficiency.
Insulated Homes are an accredited TrustMark window installer.
​
Telephone: 01647 24599 Email: info@insulatedhomes.net